Yahoo under the leadership of new CEO, Marissa Mayer are making more dramatic moves in cyberspace than a spinning Tardis. With the expectation that they will soon acquire Tumblr for $1Billion, a long waited for upgrade to Flickr was announced today. For the many free and new users this Flickr upgrade means one FREE TERABYTE of online photo storage. In Flickr's own blog they put a terabyte in perspective with this statement;  "Well, you could take a photo every hour for forty years without filling one."
Many businesses keep photos of their products, staff and events online as part of their promotional resources. Like the video scenario where we would encourage a business to be on YouTube for audience or Vimeo for quality there is the same option in the photo realm. You can have your photos on Facebook for audience but for a professional storage and presentation arena Flickr still holds its own so this is good news for storing your business photos. Now with Flickr's aethetic upgrade the experience gains in the presentation stakes.
For those who have been paying the Pro account at USD$24.95 a year, there will be little celebration apart from a tidy up. However for the masses the Flickr upgrade shows Flickr is fighting back in the photo storage space by offering 1 Terabyte of free but ad supported storage for the family album.  There will be two paid options available as part of the path forward. For $49.99 a year your Terabyte of pics can be viewed ad-free. However as a pro photographer you may also be looking for extra space. This is where you can buy an extra terabyte of ad-free space for $499 a year.
If you don't have a Flickr account, now is the time to get hold of one. Getting the right user name protects your brand and allows you to label your links with your brand as part of the digital breadcrumbs. Below we give you some tips on how to get the most out of your Flickr experience.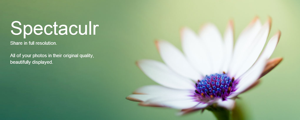 I have always been a fan of using Picasa for PC based photo editing and management. Many new digital cameras come with their brands own software but to be frank they often suck in comparison to Picasa. Not only that, but as we can have a propensity to change hardware your move to a new camera can mean a change of software. Remain agnostic and download Picasa from this link. The next move is to add a Flickr button to Picasa to make the connection to your Flickr account seamless. This little add-on makes the job simple. Picasa2Flickr
If you have a Flickr Pro account, how do you feel about the changes. If you take the advice of this blog and sign up for your free Terabyte then drop back and leave a comment on what you think of this new offering from the Yahoo family. One thing you will note in the promotions is the dropping of the 'e' vowel from the verbage. While Flickr had led the way, we can't help feel it has a small connect with the upcoming purchase of Tumblr.