ANDRYL are pleased to offer you and your friends an eBook for families to download for FREE.
Our FREE eBook, 'Parenting Digital Natives' will give you some sense to everything from Facebook to Gaming. We realise the hard work that parents and grand-parents put into their families to raise the next generation. Rewind the clock twenty years or so to when we were our children's age and the world was quite a different place.
Fill in this form to subscribe to our Digital Advice for Families Newsletter and then you will be able to download this FREE 28pg eBook with a number of tips and resources to help you deal with the internet, media and social networks. Our email newsletter will also keep you in touch with resources and advice for protecting the family you love and teaching them how to lead a smart online life.
FREE eBOOK DOWNLOAD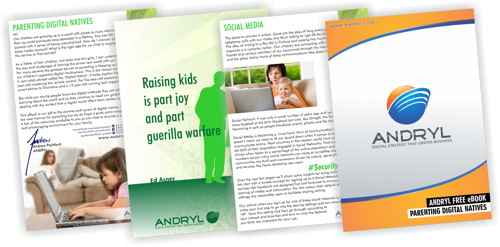 [gravityform id="2″ name="ANDRYL – Digital Advice for Families" title="false" description="false"]